Ex-product Archive; back-catalogue of discontinued items.
HOME
-
Alchemy Gothic
-
Alchemy Empire: Steampunk
-
Alchemy Metal-Wear
-
UL13
-
UL17 by Alchemy
-
Alchemy Rocks
-
Other Products
Alchemy Empire: Steampunk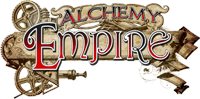 Alchemy 'Steampunk' designs revolve around Ezekiel Empire Rosenstein's, (or 'EER', Victorian 'descendant' to the original, 18th century Dr von Rosenstein), incredible Galvanic Matter Transposition System for 'pronto mass remotion' - the earliest known 'teleporter', or 'three-dimensional fax machine'! Known as the 'GMT', this sensational invention was sadly, completely lost to science. However, from a combination of surviving fragments, anecdotal evidence and recently-found early drawings, Alchemy Gothic have reconstructed several of the Rosenstein GMT's principle elements.

NTS = Not pictured To Scale with other products.